Korea Mathematical Methods for Curves and Surfaces Ewha 2006
Organized by Jungho Yoon, Byung-Gook Lee

August 25~26, 2006, Ewha Univ., 이화-신세계관 (map) 213호, Seoul, Korea
with financial support from Ewha Univ. 수리과학연구소
*이화-신세계관은 map에서 삼성교육문화관 앞 건물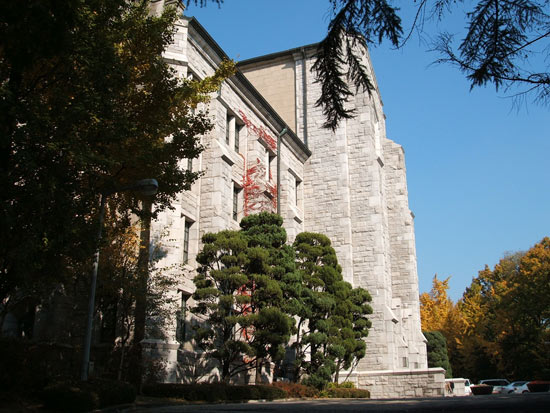 Program():
August 25. Section 1 : Jungho Yoon
13:00-13:30 A Family of Subdivision Schemes with Cubic Precision, Yeonju Lee, Ewha Univ.
13:30-14:30 Least-squares warped distance for adaptive linear image interpolation, Hoon Yoo, Dongseo Univ.
14:30-15:30 Approximation of circular arcs using quartic splines, Young Joon Ahn, Chosun Univ.
15:30-16:00 Coffee Break.
16:00-17:00 Mask of interpolatory symmetric subdivision schemes, Kwan-Pyo Ko, Dongseo Univ.
17:00-18:00 Image Interpolation Methods using E-spline(1,2), Byung-Gook Lee, Dongseo Univ.
18:00-20:00 reception
August 26. Section 2 : Byung-Gook Lee
09:00-10:00 Construction of Compactly Supported Non-Stationary Biorthogonal Wavelets Based on Exponential Splines, Jungho-Yoon, Ewha Univ.
10:00-11:30 Decidability of Collision between a Helical Motion and Algebraic Motion, Choi Sung-Woo, Duksung Univ.
11:30-12:30 n-term rational approximation and Franklin bases, Park Kyung-Weon, Ewha Univ.
12:00-14:00 lunch


List of Participants :
Dongseo Univ. : joon-jae lee, byung-gook lee, kwanpyo ko, hoon yoo, nam-woo kim, soon-jung ahn
Ewha Univ. : jungho yoon, yeon-ju lee, euneui park, sangsu park, kyung weon park
Konkuk Univ. : haisik sunwoo, chang-ho kim
Duksung Univ. : sung-woo choi
Chosun Univ. : young-joon ahn
Kyungwon Univ. : hei-sub kim
Seowon Univ. : yunbeom park
Sogang Univ. : mun-bae lee
Dongeui Univ. : jaechil yoo

Online Registration <- click! :
The deadline for preliminary registration is August 20, 2006.


---
[Last Update: 2006.8.22] Jungho Yoon